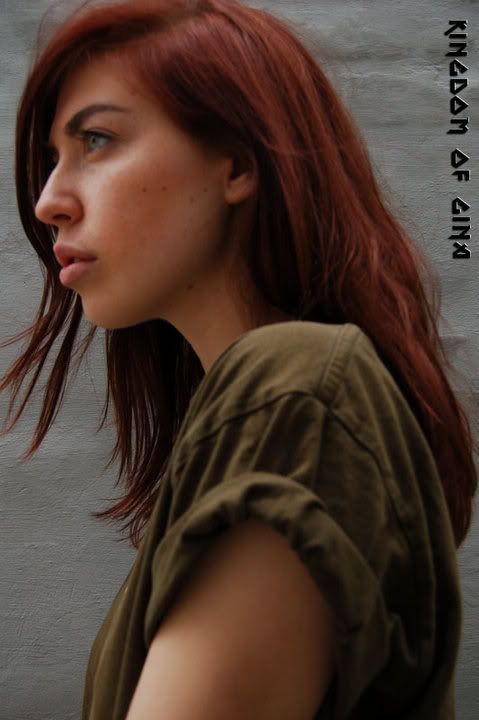 1. Can you briefly introduce yourself? How old are you, where are you from, what do you do for a living and do you have anything that you are extremely interested in?
My name is Gina – short for Georgina, I'm 20 years old, and at the moment I live in Århus, where I study at Skolen for Kunst & Design. My greatest passions are blogging, fashion, art, photography and styling. I'm absolutely sure that I want to spend my life on aesthetics.
2. How would you characterize your style?
My style is quite changeable. When changes occur in my life, I re-design myself – more or less unconsciously. But one thing always remains the same: I am an avantgardist, expressionist and exhibitionist at heart! If an idea is stuck in my head, and I like it, I will go all the way to out-live it – no matter how crazy and inconvenient it may seem. I don't like just letting fashion tendencies peek into my closet. Right now, I am very aware of my masculine side. I like sharp shoulders, straight lines and a slim silhouette – but I often top the whole thing off with a thick layer of crimson-red lipstick.
3. Where do you get your inspiration from?
The weather and the tangible surroundings have a great influence on me. I don't dress quite the same when being in the city and in the countryside. Furthermore, the movie- and music world have a strong grasp on me. I also want to add that a 1990s femme fatal vamp can be quite inspiring.
4. What's your favourite purchase? And what's your best bargain? (cheap thing, that you really love)
Recently I bought a pair of black chealsea-boots at Shoe Shi Bar. They are absolutely beautiful, timeless, have a unisex feel and are tough as hell. I know I'll have them 'til the soles fall off.
Talking of a bargain, I am especially proud of my grey boyfriend blazer, which I found in a thrift store.
5. Any favourite stores or any favourite designer(s) you would like to recommend?
I swear by AllSaints-clothing, which is no doubt one of my favorite brands. It is an English firm, but I think that the style has a very American and western vibe to it. The web shop seriously makes me drool! On the catwalk Rick Owens and McQueen have me spellbound!
6. Have you got any cities or cultures that you really like?
I am of a strange family, which has a thing for wilderness-vacations, so Islands barren and rocky landscape has somehow snatched a special place in my heart.
7. What do you mostly end up spending your money on?
Fashion magazines, smoothies and coffee! I actually don't shop that much new clothes for myself. If I have something fancy, it was a present. But I often dig out in my parents' old stuff to find abandoned treasures.
8. And what do you forget to buy?
Basic stuff – like a plain, black cardigan – 'cause I think it is too boring to shop for those kinds of things.
9. First thing you notice about another person's outfit?
- Whether a woman dresses to impress men or just to irritate other women.
- Whether a guy has stuffed his crotch with stockings.
10. Next must have?
I need a new pair of men's shoes, 'cause the ones I have, are totally down-at-heal. A pair of red, skin-tight, low-rise leather pants I wouldn't mind either.
11. Any style icons??
At the moment punk legend Patti Smith's laid-back, masculine style mixed with a heeltap of the 90s vamp I was talking of earlier – totally does it for me.
12. Is there any item that you thing are underrated?
Fashion wise, I think bonnets are way underrated nowadays!!!
13. What kind of music do you listen to right now? (bands, artist, songs)
I love Black Sabbath, The Doors, Michael Jackson, Guns 'n' Roses, Patti Smith, Joan Jett and the Blackhearts, Lauryn Hill, Kiss, Robyn and the Red Hot Chili Peppers.
14. Next trend? And while we are at it, is there a trend which you simply cannot stand?
I really have no clue regarding the next trend, but a "trend" I simply cannot stand is people praising big breasts and bottoms. Those big lumps of meat are extremely intimidating to me. Oh well, maybe a deep cleavage and full skirt work for some people – but it is definitely not me. I am much more straight up and down, and I like that.
15. Question for next week's interviewee?
How would you dress, if you were of the opposite sex?
Question from last week (What's your fav. Iphone app?):
I don't belive in iPhones. (;