Karl blogger på sin egen blog,
TotallyInkarlcerating
, men det var på lookbook, jeg første gang stødte på hans androgyne og til tider meget feminine, dog modige, stil! Jeg synes det var spændende, så derfor spurgte jeg ham, om han var frisk på et portræt - og han sagde glædeligt, ja! Så here goes! Karl take over!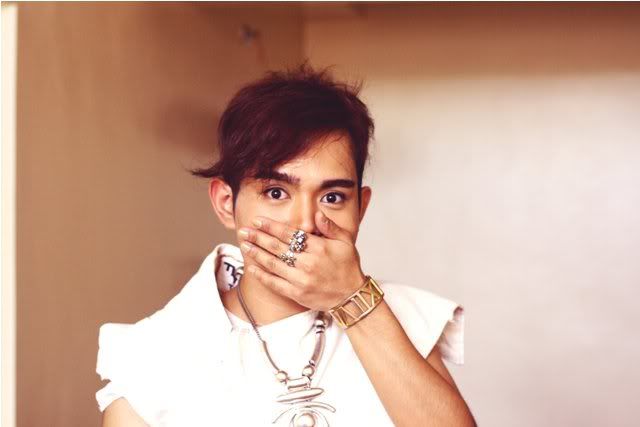 1. Can you briefly introduce yourself? How old are you, where are you from, what do you do for a living and do you have anything that you are extremely interested in?
Hi I'm Karl, i'm 23 years old. sadly, ill be turning 24 this June. I live in Manila and i work in a hospital. Im a registered nurse but when my job is done for the day, i do other things. One of these things is being a co-designer with my friend , mike magallanes, for our clothing brand paradigm shift
2. How would you characterize you style?
androgynous , minimal , modern.
3. Where do you get your inspiration from?
From Animes , video games, marvel comics , kpop, sci fi movies... from everything but i realized that i tend to conceptualize a look that came from my childhood inerests.
4. What's your favourite purchase? And what's your best bargain? (cheap thing, that you really love)
I have had a lot of great purchases . Thats the good thing about Manila. Well, i think that would be a 14 eye doc marten boots that i bought for 60dollars in a thrift store.
5. Any favourite stores or any favourite designer(s) you would like to recommend?
I love Filipino designers and i believe in them. i love Don Protasio, Kermit Tesoro, Norman Noriega, Young designers Mike Lavarez and Willar Mateo. As for the stores, Proud RACE is my favorite and our brand Paradigm shift
6. Have you got any cities or cultures that you really like?
I
would love to travel to Sweden and Sydney. I think the people are really nice.
7. What do you mostly end up spending your money on?shoes.
I can use an old eco bag as my purse or wear a simple tee but my shoes must be badass hehe
8. And what do you forget to buy?
hmm.. i forgot! lol seriously, i always forget to buy my vitamins and my toiletries. i still expect my mom to buy them for me haha
9. First thing you notice about another person's outfit?
shoes... nuff said! heh
10. Next must have?
more shoes! and a prime lens 50mm camera. thats all i need for now.
11. Any style icons??
I always make it a point to check on pop icons as well . That would be michael jackson , klaus nomi, Lady GAGA... and BJORK . i admire kate lanphear , rad hourani , and our very own JUJIIN SAMONTE
12. Is there any item that you think is underrated?
Underwears and stockings.
13. What kind of music do you listen to right now? (bands, artist, songs.)
I listen to marina and the diamonds, cocorosie, st. vincent, bjork, lady gaga, .. and spice girls. i listen to kpop as well. i cant't remove them in my system! girl power!
14. Next trend? And while we are at it, is there a trend which you simply cannot stand?
I dont dictate trends. i just try some things and if it works then it works for me. I don't do trend reports hehe. Everyone can wear what they want. yes?
15. Question for next weeks interviewee?
If youre a guy , would your wear heels or wedges and if you are a girl, would you let your boyfriend wear a pair. =p