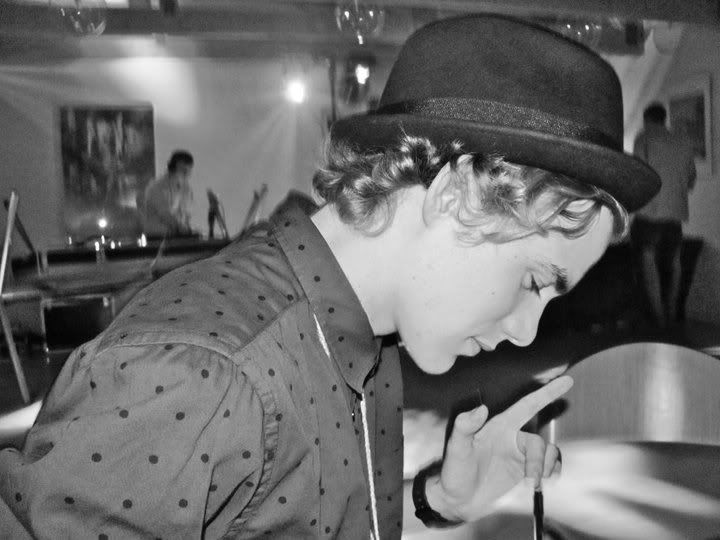 1. Can you briefly introduce yourself? How old are you, where are you from, what do you do for a living and do you have anything that you are extremely interested in?
Hi my name is Oliver Assens I am 17 and I am in High school. In my spare time I snowboard, skate and play soccer. But my biggest interests are Fashion, Art and Architecture
2. How would you characterize you style?
Style is just an extension of yourself, so I guess my style is just what is in my mind at the time
3. Where do you get your inspiration from?
The 50's and Old School Hip-Hop are the things that inspire me, but also artists like KAWS and Olek.
4. What's your favourite purchase? And what's your best bargain? (cheap thing, that you really love)
Well it is winter so it has to be my Diemme boots they really saved my feet.
My best bargain has to my Mismo X storm pc bag, which i paid 200 Dkr for.
5. Any favourite stores or any favourite designer(s) you would like to recommend?
My favourite store is Wardrobe 19 I think they got exactly what I am looking for every time.
but also stores as Pede & Stoffer and Hardware has what I seek.
My favourite designers is Marc Jacobs and my favourite brand is HAN Kjobenhavn.
6. Have you got any cities or cultures that you really like?
I love New York and every time a have the chance to get there I am doing it.
Love the atmosphere and the way that no one is too fancy to say "hi"
7. What do you mostly end up spending your money on?
Shoes, I am what most people would call a sneaker freaker
8. And what do you forget to buy?
I always forget to buy the simple stuff I need like white tees and black pants, because it is way to boring shopping simple gear.
9. First thing you notice about another person's outfit?
The overall look I think, do not look for one thing every time.
10. Next must have?
Next must-have is Folk's Grafters Jacket in mid brown
11. Any style icons??
The guys Joshua Kissi og Travis Gumbs from street etiquette is my biggest style icons
12. Is there any item that you thing are underrated?
Nothing right now I guess.
13. What kind of music do you listen to right now? (bands, artist, songs.)
It is hard to pick out a single artist, because i have a wide taste of music but i never get tired of 90's Hip-Hop, and guys like John Legend, Phil Collins, and John Mayer

14. Next trend? And while we are at it, is there a trend which you simply cannot stand?
I think that 50's style will be a huge hit but not a trend.
A trend i hate is Fox Tails; simply do not get the meaning.